Welcome to YIZUMI Company
The Managing Partner and CEO Richard Yan (right) welcomes you to the Yizumi company with its headquarters in China near Hong Kong.
Yizumi (www.yizumi.com), a Chinese mechanical engineering company with more than 3,00 employees, manufactures and offers automated solutions in injection molding, die casting, rubber injection molding, thixomolding and 3D-Printing, making it the only machine manufacturer in the world to cover all areas of high-pressure molding. The company ranks second worldwide in terms of production volumes.
Our ambitious goal is to achieve market leadership through technology-based innovations. For this reason, we have established our new subsidiary YIZUMI Germany GmbH. Originally located in the campus of RWTH Aachen in close proximity of renowned IKV institute, rapid expansion of our company soon required considerable expansion, which the university campus could not offer us. Therefore, in mid-2020 we moved to a new plant in the Alsdorf industrial area near Aachen.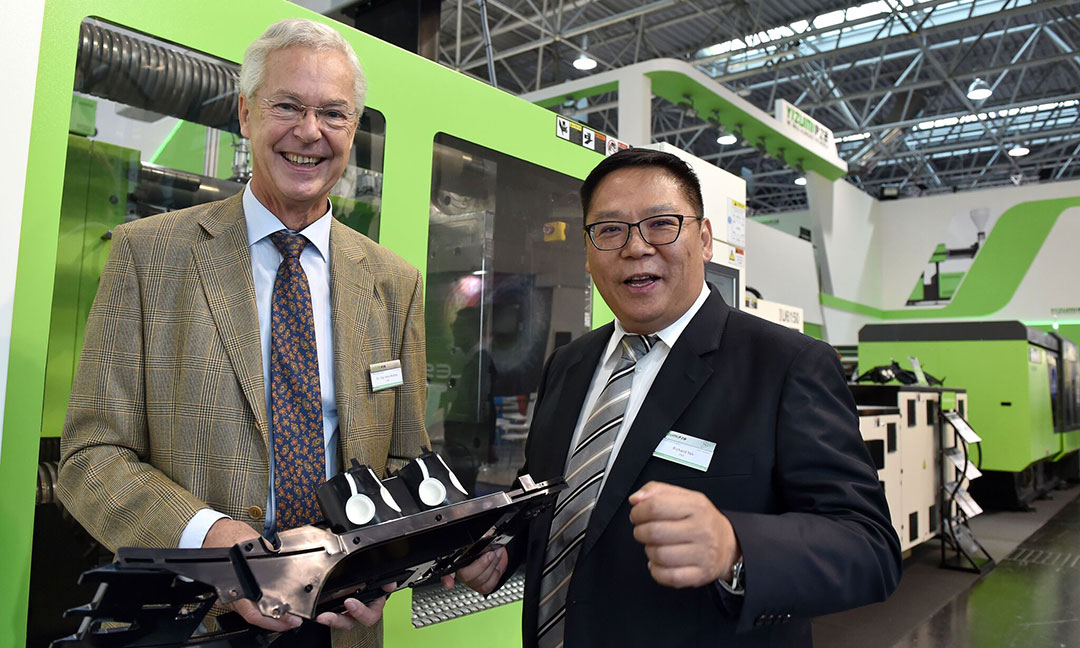 Wing Fai Richard Yan
Part owner and CEO of the Yizumi Group, listed in China, Managing Director of Yizumi Germany GmbH. Richard Yan was born in 1961, studied business administration and worked for several Chinese injection molding companies before joining Yizumi in 2004.
As a native of Hong Kong, he is fluent in English and is convinced that technical progress can only be achieved with the help of innovative ideas, systems knowledge and partnerships.
The Yizumi Company took up this idea of networking at the first "Open Days" in November 2017 – the international event was held under the motto: "Yizumi Connect 2017 – Technology connecting China and Europe."
Dr.-Ing. Hans Wobbe, born 1951 in Hamburg, studied mechanical engineering at the Technical University of Braunschweig. After holding several management positions in the processing of plastics, he moved from compounding to injection moulding.
The combination of the two technologies was developed under his responsibility as Managing Director of Technology at Krauss-Maffei Kunststofftechnik GmbH, Munich. During his time as Managing Director Technology / Production of the Austrian Engel Holding GmbH, a special focus was placed on the development of a complete product range of all-electric injection moulding machines. In addition, the expansion and construction of new plants, particularly in Asia, was stepped up in production.
In 2010 he founded the partnership Wobbe Bürkle Partner as an independent management consultant together with Dr. -Ing. Erwin Bürkle, which today operates under the name of Wobbe & Partner.
During his time as CEO of the two major injection molding machine manufacturers, he gained a great deal of experience with numerous different projects in the Asian plastics market – since his time as an independent plastics consultant, he has worked on several long-term projects for clients from Korea and China.
In 2014, he was recognized as a foreign expert in China by the State Administration of Foreign Experts Affairs (SAFEA) and has been a member of the 1000 Experts Plan since that time.
Board member Strategy at Yizumi since the beginning of 2016 – he has been trying to combine the positive aspects of both cultures since then.