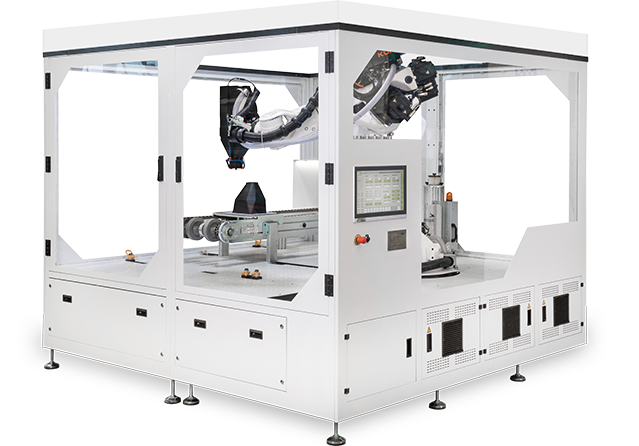 Additive Manufacturing – economically minded
SpaceA technology is based on the layer-by-layer deposition of one molten thermoplastic. A solid component can be built up by solidifying this melt strand.
Yizumi's SpaceA technology is based on 4 principles for economical use:
Use of a screw extruder
Use of a 6-axis positioning system
Use of a high plant modularity
Use of an industry standard control system
First, the material which will be processed is pretreated in a dryer (1). This dryer is included in all standard systems. The material is fed from the dryer to the extruder (2).
The extruder is a compact single-screw extruder, weighing only 6.5 kg. There the pellets are plasticized and discharged in a defined manner. The final component can then be produced on the construction platform (3) by a relative movement of the positioning system (4).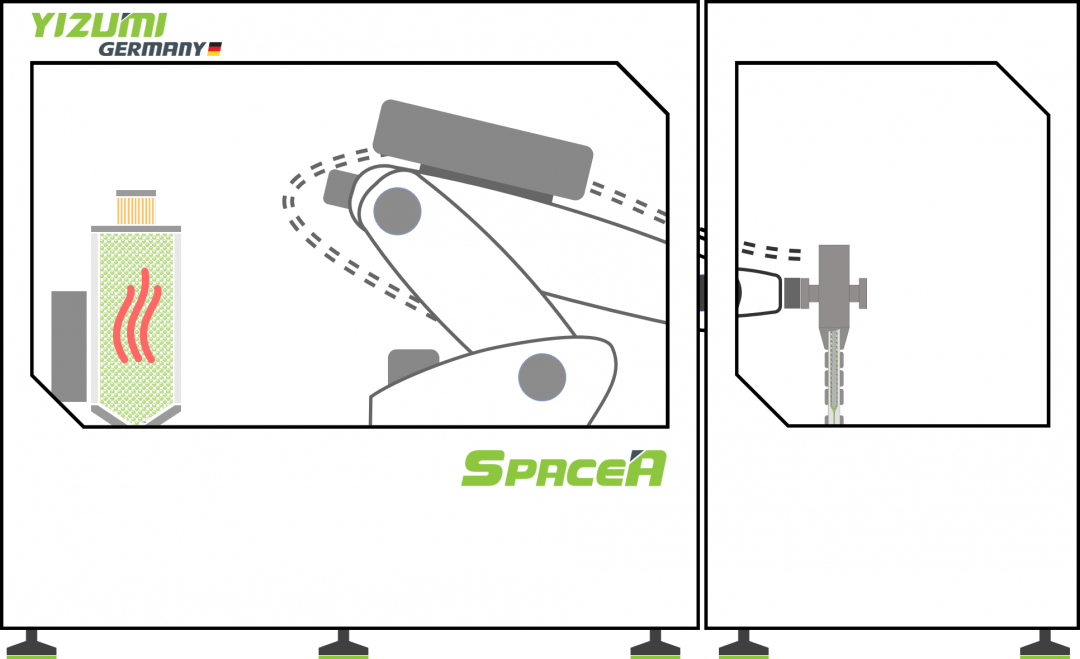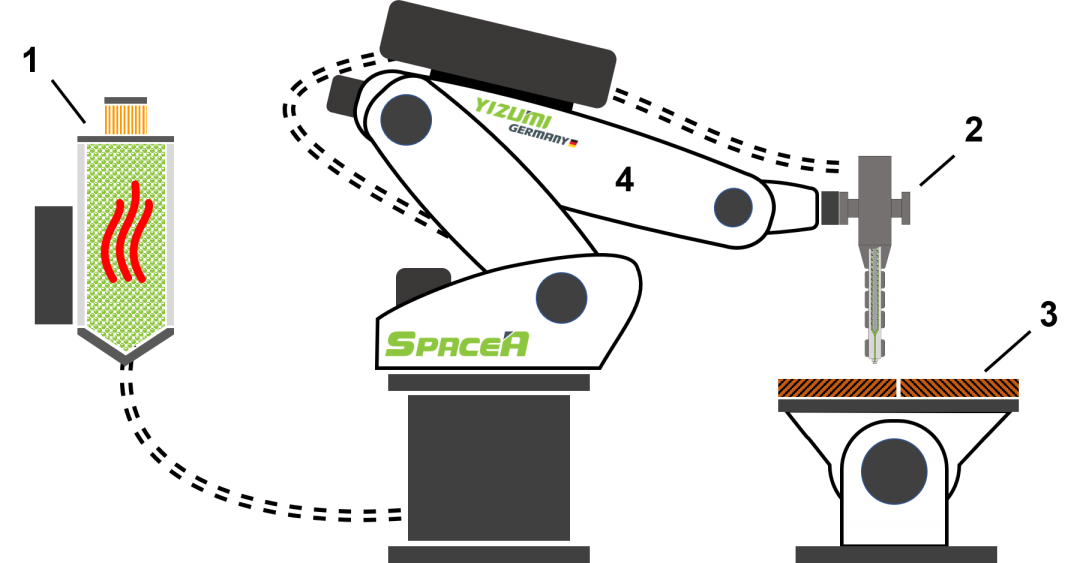 Your Benefits on one Sight
Automatability
Scalable in line combineable with prototype methods. Combination of additive and subtractive manufacturing processes.
Productivity
28 times faster than conventional FLM processes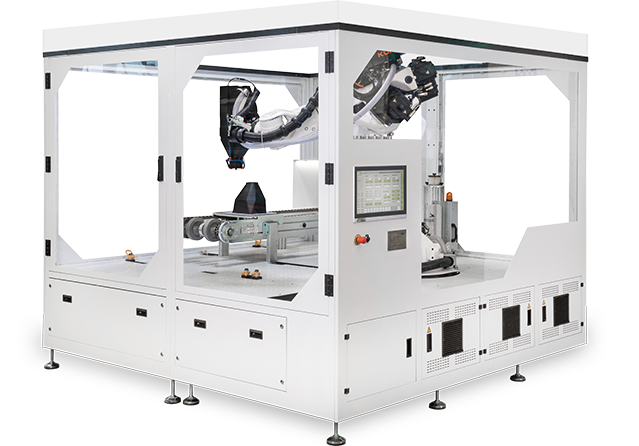 Scalability
The SpaceA product family is flexibly scalable in size and material discharge.
Material variety
Any thermoplastic granulate can be used.
PRODUCTS VARIANTS – SpaceA
Extract from our standard assortment. Talk to us!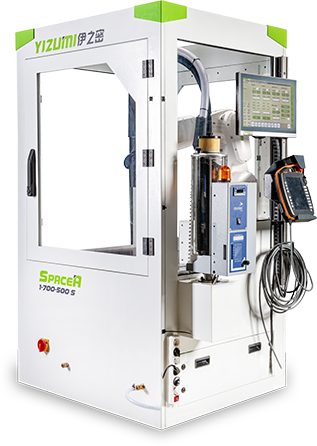 SpaceA S-Line
Fixed Platen
Smallest standard solution of Yizumi.
Extruder 500
KR10 Small robot with a reach of 900 mm assembled.
A wide area can thus be used at low cost.
Fixed, magnetic construction platform.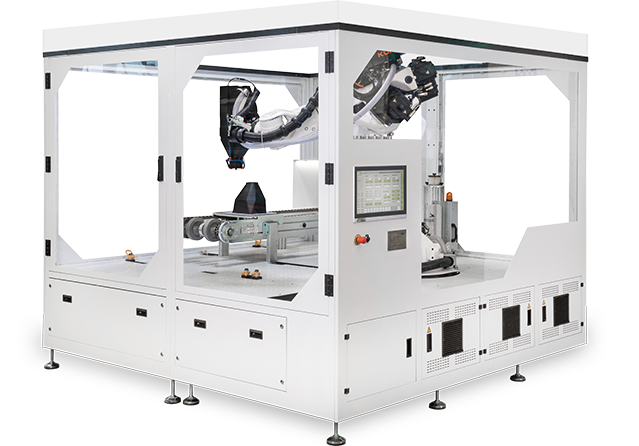 SpaceA B-Line
Fixed Platen
The SpaceA-1-2000-500 is Yizumi's largest standard solution.
Extruder 500
KR30 HA with a maximum reach of 2000 mm
The system is characterised by its large action area.
The modular system also allows flexible use of the print module in different environments.
Fixed, magnetic construction platform.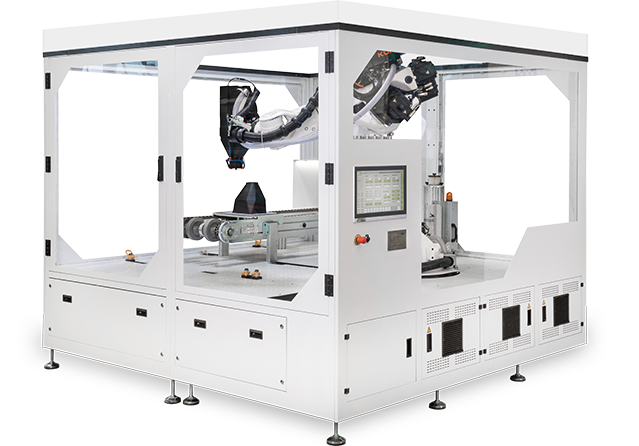 SpaceA C-Line
Piece Carrier System
The SpaceA-1-200-500 is Yizumi's most complex standard solution.
Two extruders 500 and one milling spindle
Automated tool changing system
KR30 HA with a maximum reach of 2000 mm
The hybrid variant allows the integration of several different manufacturing processes on one plant.
Thus, the SpaceA-2H-2000-500 is the all-rounder among the additive manufacturing processes.
The system is equipped with an automated workpiece carrier conveyor system.
The workpiece carriers are designed magnetically.
1. What is the main problem with today's competing technologies for additive manufacturing?
Most machine suppliers for AM-machines expect machine costs and material costs to be too high. If we want to use additive manufacturing in real production, we have to benchmark ourselves with injection moulding technology and for this we really have to reduce material costs to the standard granulate price and machine costs far below the cost of injection moulds.
2. And this is Yizumi's approach?
Yes, we want to use injection moulding as a benchmark and try to offer our customers a real benefit in using our AM technology. And our SpaceA systems can process standard granules so that PMMA or highly filled materials are no problem for us. This allows us to reduce part costs for the first time. In addition, we have developed a truly cost-saving machine and extruder technology to reduce machine costs. Both tracks lead to low part costs and so we can offer an attractive technology for small batch sizes and medium batch sizes up to 10,000 parts.
3. What machines does Yizumi offer?
At the moment we have three standard product lines. First the extruder extension packages. Here we only offer the extruder with control and material supply. This package is an intelligent solution for all customers who already have an automation cell with a six-axis robot system. Secondly, we have a small machine series and thirdly a large machine service. In all our product lines we offer our customers additional full flexibility. This allows us to easily adapt the standard packages to their needs.
4. How far can the automation approach be scaled?
The automation approach of the SpaceA product family, like any general automation approach, is completely scalable. It is based on our innovative extruder, which can be handled via 6-axis positioning systems. Combinations of different production technologies such as milling, injection moulding, thixomolding, die casting or thermoforming can be implemented. Finally, the right combination of the various state-of-the-art technologies is crucial in order to produce a cost-effective component that meets the requirements.
5. And could you already present automated production lines?
Yes, twice. At the last K 2019 in Düsseldorf. Since the K-Show is production-oriented, we showed in two cases the integration of a SpaceA AM system into a fully automated injection molding production cell. This enabled us to reduce the complexity of injection molding. This approach saves a lot of costs in both injection molding machine technology and injection molding tool technology. To give the first example at the Yizumi booth, we produced a strong rib structure in cycle time on our Yizumi engine cover. This way we have an optimized material usage. Strong carbon fiber reinforced material for the rib structure and slightly glass fiber reinforced material for the cover itself. Secondly, we applied a TPE anti-slip structure to a Raspberry Pie housing on the IKV booth. So we were able to show very well that we can meet the injection molding cycle time and are able to handle complex automation systems.