Established in 2002, Guangdong Yizumi Precision Machinery Co., Ltd. is a ChiNext-listed company focusing on design, R&D, manufacturing, sales and service of injection molding machines, die casting machines, rubber injection machines, high-speed packaging systems, automated robotic systems and precision molds.
Headquartered in China, Yizumi has three domestic manufacturing bases and an overseas factory covering a total area of nearly 300,000 sqm. In addition, Yizumi has established technology service centers in the U.S. and India and appointed more than 30 overseas agents, increasing sales to over 60 countries and regions. In 2018, Yizumi's turnover was appr. EUR 300 million.
Yizumi is always concerned about market trends and customer needs. Backed up by 200-plus R&D professionals and increasing investment in R&D, Yizumi has received over 130 technology patents and made competitive technical breakthroughs, including a new generation of  thixomolding machine developed and recognized by domestic renowned experts in 2015.
Introduction of IPD model and acquisition of all intellectual property of U.S. HPM Company also facilitate constant development and optimization of products. An R&D center was established in 2017 in Germany at Aachen University Campus Melaten to further strengthen R&D network.
With efforts of over 2,700 employees, Yizumi is expanding its global footprint to provide high-quality products and services for more customers worldwide and set its sights on becoming a world-class business in its industry.
Yizumi is always aware of its social responsibility. The guiding principle of the company is never to forget its origins ("Never forget your roots") and to regard people as the most valuable capital and heart of the company. The focus is on the health and well-being of its employees and their families.
In the last few years, modern sports facilities and green spaces have been created right next to the plants with many sporting and cultural competitions and events. Several funds support apprentices, students and families in need.


The name Yizumi means Source
and in Chinese is synonymous with:
Vitality  | Wisdom | Creativity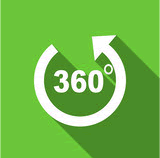 YIZUMI Development History
Yizumi India Factory was put into use.
Yizumi Germany GmbH setup.
Yizumi Mold Factory (Yiming) went into operation and Yizumi's Indian subsidiary was founded.
Yizumi became China's first molding equipment manufacturer listed on ChiNext (stock code:  300415).
Factories in Wusha and Wujiang went into operation and Robotic Automation System Division was established.
High-speed Packaging System Division was established.
Yizumi acquired intellectual property of HPM Company and realized dual-brand operation.
Rubber Injection Molding Machine Division was established.
Die Casting Machine Division was established.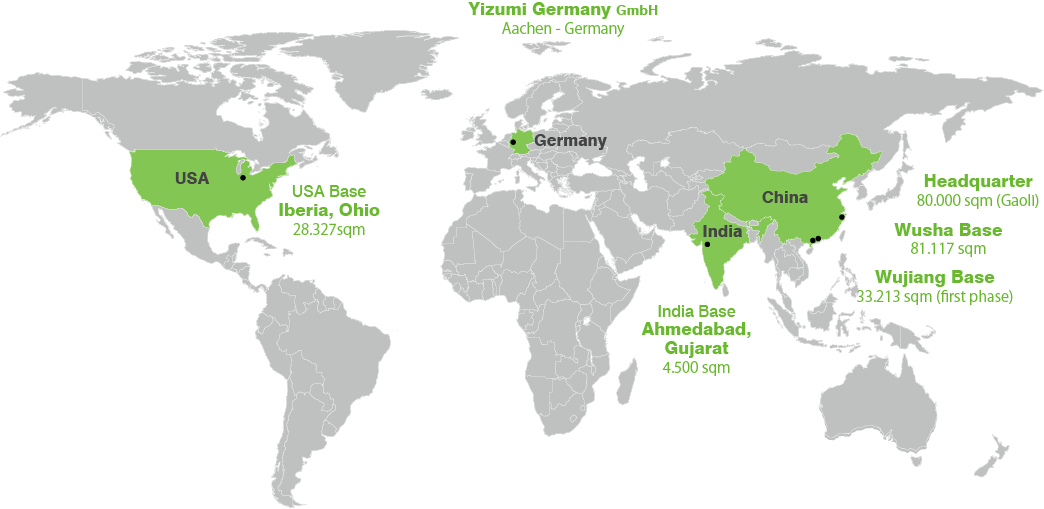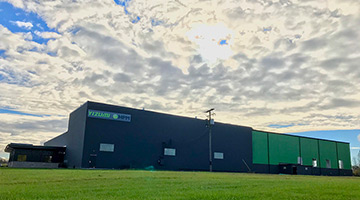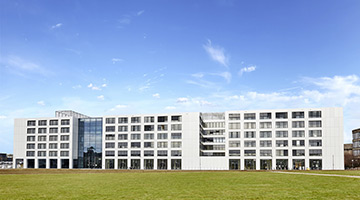 YIZUMI Germany GmbH – Aachen
As partner of the AZL Aachen GmbH in the Production cluster Building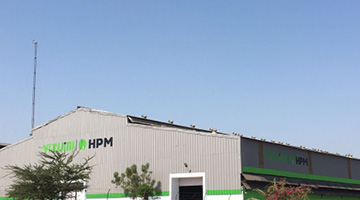 Indien Base – Ahmedabad, Gujara